Covered Patios
If there is one outdoor improvement that will truly give you your money's worth, it would have to be a covered patio. Covered patios can serve as the perfect rest and relaxation spots in your yard since you can put chaise lounges, dining sets, outdoor kitchens, fireplaces, TV's and many other amenities. When constructed using premium building materials, these features can even add to your property's overall appeal and make it stand out effortlessly.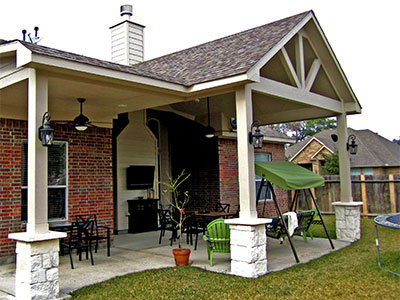 The good thing about covered patios is that you can use them any time of the year. Since they are better-looking than open-type patios, you can enjoy aesthetic boost of your outdoor area. However, you should first choose the right company to build an addition since not everyone can install a covered patio and guarantee positive results. Good thing you have us at JLC Roofing and Construction.

We're among the very few outdoor structure companies in the state that use only seasoned and skilled builders and craftsmen with unmatched creativity and attention to details. Our people can work under tight deadlines but still produce great-quality covered patios for clients. Add to that the A+ BBB Rating that we have been receiving for the past years and the Gold Star Award for 5 straight years and you get a picture of our credentials. We have also served a lot of owners in your area, including those in Spring, The Woodlands, Montgomery, Magnolia, Tomball, Cypress, Katy, Houston, and Conroe.

Contact us now and let's talk about your covered patio project.


Top-quality Patio Covers
Our patio covers are highly sought-after due to their exceptional versatility, rugged construction, and customizability. You simply have to tell us your specific design and practical needs, and we'll be happy to design your patio cover to satisfy such specifications. We can assure you that our patio covers are all made from the finest materials available, so they're sure to last for decades to come. Ultimately, you can expect our patio covers to meet or even exceed your expectations. But the best part of it all is that we offer them at budget-friendly prices so you won't have to spend more than what your budget permits.


Covered Patio Installation Experts
Modesty aside, we're lucky to have consummate, skilled, and highly professional crews who work on our patio installation projects. If you demand only the best, then we're the perfect company to go to since we have a team composed of people with lengthy patio installation experience.

Our patio builders use only task-appropriate tools and strictly follow our systematic patio cover installation methods, hence allowing them to get the job done right the first time. For us, a bad job is a sign of laziness or inability to meet clients' expectations and specifications. And when it comes to following specifications, you won't find any other company better than us. Our covered patios can speak for our claims, and we'd be happy to provide you photos of some of them to substantiate everything we've stated so far.

So please contact us now and let's build you a covered patio that you can be truly proud of.