Interior Remodeling
If you're planning to improve your home from the inside, you need interior remodeling specialists to work on your project. Whether it's a simple tiling or repainting project in your living room or kitchen – more so if it's a more complex job – a professional team of remodelers is what you need. And JLC Roofing and Construction is one of the contractors that you can hire for such specialized task.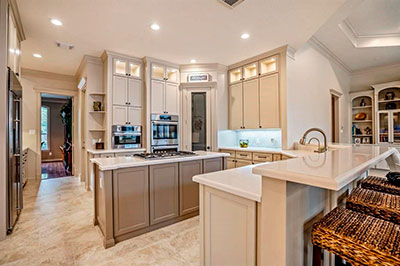 Our lengthy experience in property improvement helped us develop our keen sense of style and creativity. Accordingly, you can trust us to recommend and implement changes in your home or office that will make it more inviting and appealing. We urge you to contact us so we can talk about your desired changes in your interiors. We'd be happy to pitch our ideas and integrate your own desires for a smart interior remodeling plan that we guarantee will bring positive results. Call us if you're from Spring, The Woodlands, Montgomery, Magnolia, Tomball, Cypress, Katy, Houston, Conroe, or surrounding area.


Outstanding Bathroom Remodeling Service
There are several reasons why bathroom remodeling should be in order. First, the design is already outdated, and the bathroom sticks out like a sore thumb with its old look. Second, you already have additional family members, so the bathroom may already seem cramped. Third, you need new amenities like a bigger tub, modern shower, or extra cabinets for your toiletries and towels. Accordingly, we're ready to take on your bathroom remodeling project since we offer such service at affordable rates. We typically recommend changing the floor tiles and lighting, upgrading the bath tub and sink, and replacing windows to make the bathroom more attractive and cooler. Just let us know your design preference and the amenities that you want added to your bathroom, and we'll realize them for you.


Kitchen Remodeling Specialists
We can make your kitchen look like new again and become even more spacious and attractive with our interior remodeling services. Having remodeled a lot of kitchens in residential properties in the area, we have the skills, tools, and manpower required for a successful kitchen remodeling job. Our team of professional remodelers can work on practically every area of the kitchen and install all kinds of amenities that the client needs. Among others, we can work on the backsplash, sinks, storage cabinets, lighting, working areas, and even the floor and ceiling. We're also capable of sourcing the right kitchen appliance to make food preparation a breeze.


Trust the Experts in Interior Remodeling
Since interior remodeling could cost a considerable amount of hard-earned money, it's only wise to be picky on the contractor you'll hire for the job. Now, if you live anywhere in the areas mentioned, you have a company with sterling record within your reach.

JLC Roofing and Construction is a reliable interior remodeling contractor that has worked on many projects with commendable results. We can work on small remodeling tasks to total interior makeovers. Our dedicated crews can remodel any part of the home interior – from bedrooms and bathrooms to living rooms, attics, and kitchens. We use only top-quality materials and supplies in all our projects to ensure durable structures and amenities that you can enjoy for decades. Additionally, our remodeling team knows how to work with clients to ensure that they're on the same page from the drawing board up to the final output. With us, hugely improved interiors won't stay a dream but become a reality. Please call us today.