Outdoor Fireplaces
If you're quite undecided about how you can improve your outdoor's functionality and appeal, we can recommend some excellent ways. If you want to get refreshed during hot days or humid nights, you can add a pool so you can take a dip any time. Meanwhile, if you wish to get cozy and comfy during chilly days and cold evenings, we strongly suggest having a fire amenity installed, such a outdoor fireplaces made of premium materials like brick or natural stones for a classy touch.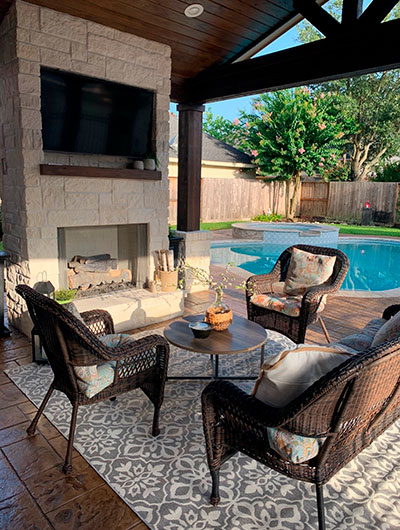 At JLC Roofing and Construction, our in-house creative designers will work with you to create a stunning fireplace meant for your outdoors. We offer a limited 2-year warranty for the materials and workmanship and industry-leading limited 5-year warranty coverage on our outdoor fireplaces' structural parts. This means that your outdoor fireplace will remain functional and in great shape for decades.

Call us today and let's build an outdoor fireplace that you'll benefit from and be extremely proud of. We serve Spring, The Woodlands, Montgomery, Magnolia, Tomball, Cypress, Katy, Houston, and Conroe. We're excited to create an outdoor fireplace that will increase your property's value, appeal, and functionality several times over.


Custom-designed Outdoor Fireplaces
While there are ready-made, pre-fabricated models that you can buy, nothing beats having an outdoor fireplace built according to your specifications. Accordingly, we offer custom-designed fireplaces that will capture everything that you want to see in a fire amenity. Additionally, clients have the freedom to determine the shape and size of the outdoor fireplace – typically from 24"-48" wide or beyond and 24"-32" tall, and linear, arched, off-the-wall, and square shapes. In short, we'll give you a free hand in deciding how your dream outdoor fireplace should be built and designed by our team.


Built by Seasoned Craftsmen
One thing that we can assure you is that we'll design and build your desired outdoor fireplace following our tried-and-tested techniques. We're fortunate to have personnel who have with them decades' worth of experience in installing outdoor fire features. Accordingly, you can bank on our crews' unmatched skills in outdoor fireplace installation. They possess keen eyes for details and unquestionable artistic flair, which makes it easy for them to create outdoor fireplaces with exceptional appeal.

Moreover, our installers use top-grade materials, such as stone, granite, and the like, to guarantee the outstanding quality of our outdoor fireplaces. As mentioned, we can assure you that the fireplaces we install are built to last not for a few years but for many decades. Additionally, we can position the fireplaces in the best spots in your yard – patio, sitting area, or backyard.


Experienced Fire Feature Builders
As experienced fire feature builders, we're the best company to hire if you need such amenities for your property. We are skilled in designing and installing various fire features such as fire pits, fire bowls, and fireplaces. So please contact us today and let our team build the ultimate outdoor fireplaces for your yard.