Outdoor Kitchens
Most homeowners usually include an outdoor kitchen in their outdoor improvement project. They invest in this particular feature because of its practical and aesthetic benefits. An outdoor kitchen makes an outdoor space more functional and more conducive to socialization. It extends one's indoor space into the cool outdoors where it's more relaxing. Just imagine preparing hot meals for your family and guests right in your back yard. With a professionally designed outdoor kitchen, your outdoors will become a perfect spot to bond with people closest to you as you enjoy great food together.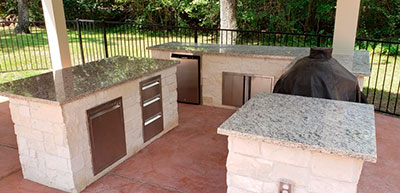 But you can enjoy these benefits only if you hire the right contractor for the outdoor kitchen job. Ideally, the contractor should already have worked on many similar projects in the past. Also, check if the contractor has a ready portfolio so you can take a glimpse of the quality of work that he can provide. If you want to be sure that you're hiring the right one, just contact us at JLC Roofing and Construction. We have the required experience, skills, and creativity in creating your dream outdoor kitchen.

We have built countless outdoor kitchens for clients in Spring, The Woodlands, Montgomery, Magnolia, Tomball, Cypress, Katy, Houston, and Conroe area. The kitchens we build feature top-notch design and the finest building materials. We have sample outdoor kitchen designs for you to choose from or we can build a custom-designed one based on your desired features and amenities. Send your inquiries now by filling out our contact us form.


Beautiful Outdoor Kitchen Designs
Outdoor kitchens are permanent structures that could cost a huge amount of money, so they must be well-thought-out and well-built to last a lifetime. And when it comes to beautiful outdoor kitchen designs, we are the perfect company to hire. We can custom design your dream kitchen by incorporating the elements and amenities that you desire.

Our designers consider several factors when designing kitchens. First are the specific amenities to be included like BBQ grills, burners, refrigerator, and storage. We also consider the design of the house since we want to achieve a seamless look. It's also critical to take into account the available space and your budget to correctly determine the materials to be used and the features to be added to the design plan. By properly considering these factors, we can easily come up with stunning and fully functional outdoor kitchens.


Long-lasting Outdoor Kitchens
Our company puts premium in creating outdoor kitchens that last not just for a few years but for many decades. And our lengthy experience building these outdoor features tells us that one of the keys to achieving this result is to use only the finest building materials. Accordingly, one quality that makes our outdoor kitchen creations stand out is their exceptional durability. By using only top-grade materials and kitchen appliances, we're able to install kitchens that are functional, stunning, and long-lasting.

Generally, we recommend add-ons to make outdoor kitchens complete: pergolas for shade, patio covers for complete protection from the elements, and custom lighting to make the kitchens stand out at night. With us, you're sure to enjoy great meals and priceless moments with your loved ones in your own outdoor kitchen.