Pergolas and Patios
There are two specific amenities that are considered by many property owners and outdoor structure companies to be among the best add-ons to any outdoor space – patios and pergolas. This is not surprising since these structures provide much-needed shade to any landscape, as well as aesthetic lift and added functionality. These features are truly worthwhile investments because of the benefits they offer.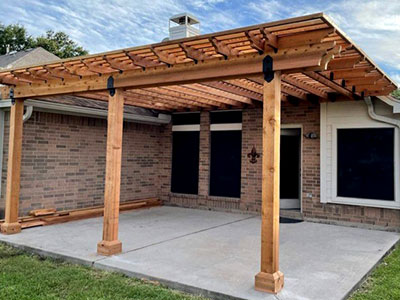 Now, if you need experienced builders to install these outdoor amenities, just call us at JLC Roofing and Construction. With an ever-growing number of satisfied clientele, we're the perfect company to hire for this outdoor structure project. The patios and pergolas that we install are all stunningly beautiful, sturdy, and functional. You are guaranteed of quality structures because we use premium materials and follow industry standards. Wherever you may be in Spring, The Woodlands, Montgomery, Magnolia, Tomball, Cypress, Katy, Houston, or Conroe, we can build your dream patio and pergola. Call us today.


Professionally Built Patios
Our company is the go-to place for owners who desire patios that are designed and built to perfection. We have the skilled manpower, equipment and tools, and access to first-class materials and supplies to install any type of patio. We can work on our clients' ideas and specifications to guarantee their total satisfaction. Whether you desire a Victorian-inspired or Modern theme, or opt for an open type rather than a roofed patio, we can assure you a patio that is truly a knock-out beauty.

As mentioned, we use only premium materials whenever we create patios for clients. For example, we use top-quality concrete or stone for the patio flooring and granite or stone for patio tables for optimum class and appeal. Aside from the materials, we can also help you choose the perfect location for your patio, as well as pick the ideal patio style – whether attached or detached – to achieve the best benefits for you. Rest assured that we're fully capable of creating beautiful patios since we've completed numerous custom patios in the past.


Installation of High-Quality Pergolas
Just like patios, pergolas also provide a host of wonderful benefits that make them worth the investment that you'll make. These outdoor shade structures can turn a plain landscape into an eye-catching spot since they can be designed to enhance the beauty of any outdoor space. Wood is the predominant material used to build pergolas, and we all know that wood has that innate subdued, yet unique homey appeal that makes them inherently inviting. Accordingly, our skilled craftsmen will use only the finest quality wood and build your dream pergola following your design specifications.

Our custom pergolas are several times better than pergola kits, which are available in the market. While it is tempting to just grab a pre-made pergola kit, it is still best to choose a custom-made pergola so you'll have the last say on how it would look. A personalized pergola will surely look great since it's going to be built to your specifications and even harmonized with the other landscape features in your property. In short, you'll never regret spending extra dollars for a customized pergola.

So please contact us today, and let's show you why we're trusted by many to build their dream patios and pergolas. We hope to hear from you soon!