Roofing
JLC Roofing and Construction is a roofing specialist serving the greater Houston, Spring, and South Montgomery areas. Most residential and commercial property owners rely on us because of our decades of experience in the construction industry, highly skilled people, and use of topnotch products. We can guarantee outstanding completion of any project regardless of its scope or complexity. Working with us is also easy and worry-free since you will get your needed services in just one roof. Our comprehensive services include installation, repair, maintenance, roof assessment and other roof-related tasks. We can handle roof installation with ease and perform excellent roof repair and maintenance works. Home buyers can also tap our services if they need people who can perform expert roof inspections.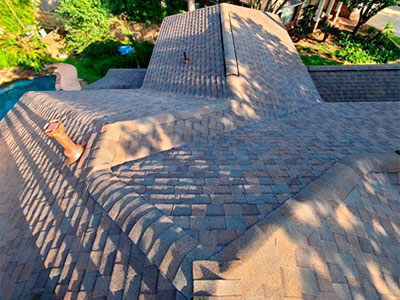 Don't hesitate to contact JLC Roofing and Construction for all your roofing needs. As a well-experienced contractor, we can work on any roof-related task with guaranteed outstanding result. Our installation and maintenance crews have already completed numerous projects in Spring, The Woodlands, Montgomery, Magnolia, Tomball, Cypress, Katy, Houston, Conroe, and nearby areas. Please dial our hotline or fill out our inquiry form so we can assist you in your concerns.


Certified Roofing Installers
We are one of the few companies with Shingle Master Certification. As a CertainTeed certified company, we can provide the extended warranty offered by the manufacturer. You are also guaranteed of excellently done roof installation or repair job because of our proper training and in-depth knowledge about roof shingles and CertainTeed products. Moreover, our men will perform their jobs with great precision to ensure the longevity and reliability of the roofing material.


Experienced Roofing Repair and Maintenance Contractor
Any repair and maintenance work on your roofing must be done by professionals. Always choose a contractor with an impressive credential since he can get the job done right the first time. You will be assured that there will be no guesswork or hastily performed repair jobs. Please take note that you may spend huge on roof repairs if the job is handled by an inexperienced contractor. But don't worry if you have JLC Roofing and Construction.

Our company is composed of seasoned roof installers with extensive experience in repairing and maintaining various types of roof materials. And if your roof is made of shingles, we are the right company to call. Our people are Shingle Master certified so you can expect fast and efficient repair of damaged or worn-out shingles. They know the right methods and techniques to use when repairing or replacing roof shingles. You will also need our help if the damages on your roofing were caused by storm, heat and rain, strong winds, hurricane, or fallen trees.


We Offer Client-Friendly Rates
At JLC Roofing and Construction, you will get topnotch services at client-friendly rates. Unlike other contractors that charge exorbitant rates, we offer our services at rates that clients can afford with ease. Our friendly pricing allows us to serve as many clients as possible and is one of the many reasons why we're preferred by many property owners in the areas we serve. Add to this our A+ rating and Golden Star recognition from BBB. This means that we are a trusted and reliable company. Talk to us soon so we can start discussing your roofing project.